>I've been trying to join our local cycling club for a mid-week metric ride they do each week for a few weeks now but windy days, foul weather and work kept getting in the way. So this week, I traded days off so that I could join them down in the Carson Valley for a nice… easy… relaxing… ridiculously long ride. Seeing as how this was my first ride this season, it was clearly an awesome idea to go ride for 5 hours and 45 minutes with 4,703 feet of elevation gain. Seriously genius. It was an especially great idea after not taking a rest day in the last nine days which included running 23 miles, spinning for a hour and half, and swimming 10,100 yards. Yes: 62.4 miles is a great way start to my cycling season and my legs think so too. Nevermind that 10k I'm racing in Sacramento at the zoo this Sunday. Pffffffffft.
Speaking of swimming, we have a new coach on Tues/Thurs and he also coaches the high school and club team. I have been moved to the "fast" lane which includes myself and two fourteen year olds. One of them was sick today which was awesome because that means my fastest kept up with him. I expect to be horribly tired every day for the rest of the summer.
Anyways, so after having my &@$! handed to me by fourteen year olds in lane 6, I decided to go out for a little jaunt on my freshly tuned up bike. There were five of us to start with but only four of us climbed Ebbetts Pass.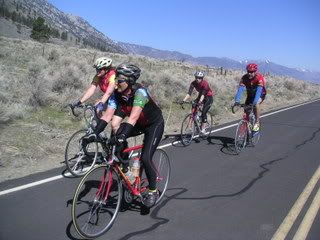 Ebbetts pass splits off after Markleville, to the west while Monitor Pass heads to the east to highway 395 and Nevada. Ebbetts also passes through the Stanislaus and Humboldt-Toiyabe National Forests and the way up boasts spectacular views of the western valley.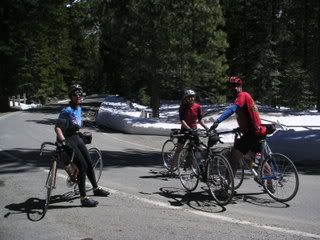 While the top of Ebbets is at 8500′ we only made it to 7350′ because the road hadn't been fully plowed yet.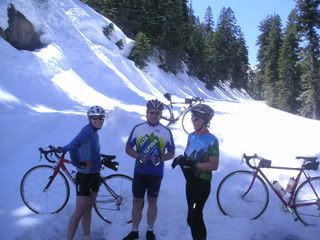 The way up was pretty tough on my un-trained legs and the way down was brisk with a crazy strong headwind. I tucked in behind Jeff, who is a customer at my store and a fantastic triathlete. Not to mention the fact that he's well over 6 feet tall and provides a nice drafting buffer in the wind.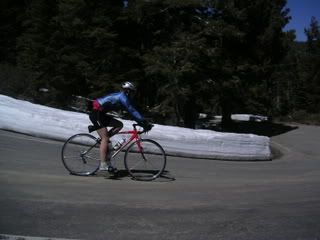 At the Markleville General store I consumed one snack pack of fig newtons, one and half packs of Keebler peanut butter toasty crackers, one pack of peanut m&m's, and one gatorade. Tonight at dinner, Corey cooked me a nine pound steak (seriously, not exaggerating; it covered my entire plate) and with it I had a side of pasta with olive oil, veggies, and parm. And four more fig newtons. And half a bottle of wine, which I scored for $3.99 at the used food store, Grocery Outlet (another story) even though it usually sells for $13.99.